MetaTrader4 MultiTerminal – a new MT4 tool for effective trading and simultaneous management of multiple accounts.
MetaTrader4 MultiTerminal is intended both for independent traders and professional asset managers. It allows to open orders for several accounts and automatically distributes the total trade volume among several accounts depending on the chosen type of distribution.
To use MultiTerminal you can either open new accounts or use existing MetaTrader 4 accounts. Install the software on your computer and enter your account details.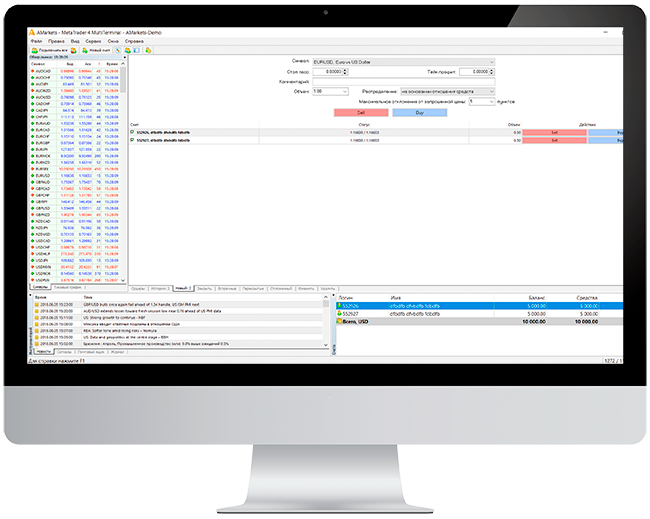 MetaTrader 4 MultiTerminal Benefits:
Internal reports system for performed operations;
Ability to run up to 128 real accounts simultaneously;
Simultaneous placement of orders in all accounts with a single mouse click;
5 methods of lot allocation: predefined volume, total volume for each order, in equal parts, on equity ratio, on free margin ratio.
MetaTrader4 MultiTerminal features:
Instant and Market execution of orders
Full or partial close of positions
Ability to place all types of orders, including pending orders
Several types of position close including "Close by opposite position" and "Multiple close by opposite positions"
Ability to monitor open trades and the account balance, modify current positions and set new stop order levels (Stop Loss or Take Profit)
Access to Trade history.
A detailed MetaTrader4 MultiTerminal User Manual can be also accessed by pressing the F1 key or in the MultiTerminal "Help" menu-> "Help Topics".
MetaTrader 4 MultiTerminal FAQ
MetaTrader 4 MultiTerminal Instruction