Financial market is a melting pot of possibilities for everyone without exceptions. If you not confident to do it yourself, there is always someone who can do it for you! If you have capital, you definitely want it to grow. How can you achieve it? Well, you may want to consider partnership with professional traders, which can not only help you to find the most interesting trade possibilities, but also trustfully use it for you. Don't miss your opportunity to earn together with professional traders. Check our PAMM Rating and invest your money!
See how easy PAMM Account works:
Professional trader creates Manager's account in our system and invest his own funds to it. His trading results are analyzed automatically and published in open access. Manager creates an offer where he specifies the terms of cooperation with investors, including percentage of the profit that he'll receive as a reward for account management.
Investors can analyze managers' performance using our PAMM Rating and invest in any manager they prefer.
Manager trades using his own capital and investor's funds. Profit or loss, received from trading will be automatically distributed between manager and his investors in proportion to the deposited amount.
Trader Alex registers as a manager and publishes his strategy in the rating.
Alex publishes an offer, where he defines, that every month profit on his account will be distributed between all investors (including himself), and his management fee will be 20% of the profit.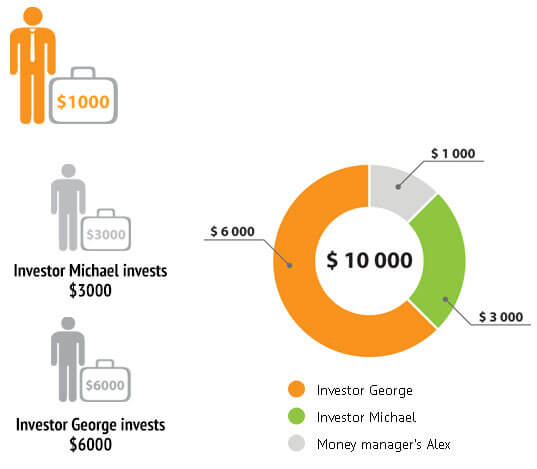 So, total strategy deposit is 10 000 USD.
Manager
Alex
Investor
George
Investor
Michael
Original investment
1000 USD
3000 USD
6000 USD
Profit
+ 500 USD
+ 1 500 USD
+ 3000 USD
Manager's fee (20%)
+ 900 USD
- 300 USD
- 600 USD
Total balance
2 400 USD
4 200 USD
8 400 USD
As a result of the successful manager's work in the past month, total profit on the strategy is 50% (5,000 USD) of the initial deposit (10,000 USD), and the total account balance is now 15,000 USD.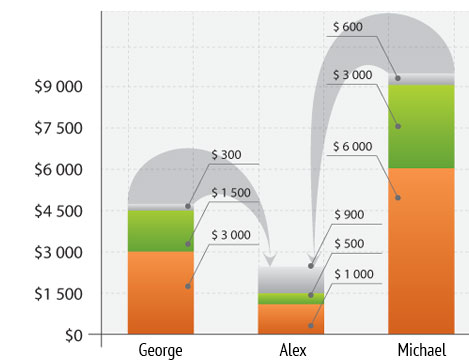 Profit was distributed proportionally to all investors:
George got 30% of the total account profit - 1,500 USD and paid the manager a fee of 20% (300 USD) of the profit.
Michael got 60% of the total account profit - 3,000 USD and paid the manager a fee of 20% (600 USD) of the profit.
Manager Alex got 10% of the total account profit - 500 USD, as well as the management fees of 20% of investors' profit (900 USD).
As a result of manager's work on the Investors' account the net gain amounted 5 000 USD and it was distributed accordingly to the offer:
Investor George — 1 200 USD;
Investor Michael — 2 400 USD;
Manager Alex – 1 400 USD (500 USD as his profit share and 900 USD managment fee).
Risk Warning:
Manager's previous gains doesn't guarantee future gains.
AMarkets is not responsible for Manager's and Investors' actions providing PAMM service.
AMarkets does not control and does not participate in the clients' funds management.